Recording with Confex PodiumTM
Confex PodiumTM: Managing and recording conference presentations
During your meeting, our Confex PodiumTM software allows easy integrated on-site file management and presentation recording. Recordings can be posted on the web in as little as 24 hours, providing an amazing tool for attendees to review presentations they may have missed during the conference.
Confex PodiumTM is a unique suite of software and services for managing, recording, and sharing conference presentations in a manner that is easy to use, robust, and economical.
Since its introduction in 2003, Confex PodiumTM has been deployed at hundreds of meetings and is now used to record and manage over 10,000 presentations every year.
When a local network is available to link the speaker ready room to session rooms, Confex PodiumTM automatically moves presentations swiftly and reliably to the session rooms, even presentations including dozens of files and over two GB of video. When a local network would be prohibitively expensive, Podium's 'sneaker net' mode of operation has proven to be very effective even for very large meetings (over 80 rooms in use concurrently).
With Confex PodiumTM you can:
Collect PowerPoint and other presentation files online and onsite.
Check those files, ensuring that they run properly in the meeting rooms.
Monitor the status of the presentation files, keeping track of what has yet to be received, and flagging presentations needing attention or being edited.
Distribute the files efficiently to the meeting rooms.
Cue presentations easily in every meeting room.
Record every presentation in a full-screen, synchronized, multimedia format.
Publish the recorded presentations promptly, on-line & on DVD.
Control access so you decide who sees the presentations, and at what price.
Increase your audience by recording your conference
You put too much work into your meeting to have it only last one week. Use our recording tools to help extend the life – and relevance – of the material presented at your conference.
Your attendees don't pay for the meeting a la carte. Why limit them to the sessions they can physically attend? Use Confex PodiumTM to record presentations and make them available to attendees or subscribers after the conference. You can add the capabilities of Virtual Attendance to allow both speakers and attendees to participate remotely. We can also allow attendees to download an audio recording of sessions they indicated an interest in via our attendee app.
Some of our clients do limit access to attendees. Others let anyone in the world see the recorded presentations. So, whether your goal is to increase attendee satisfaction, or to spread the latest information in your field as efficiently as possible, Confex PodiumTM is the answer.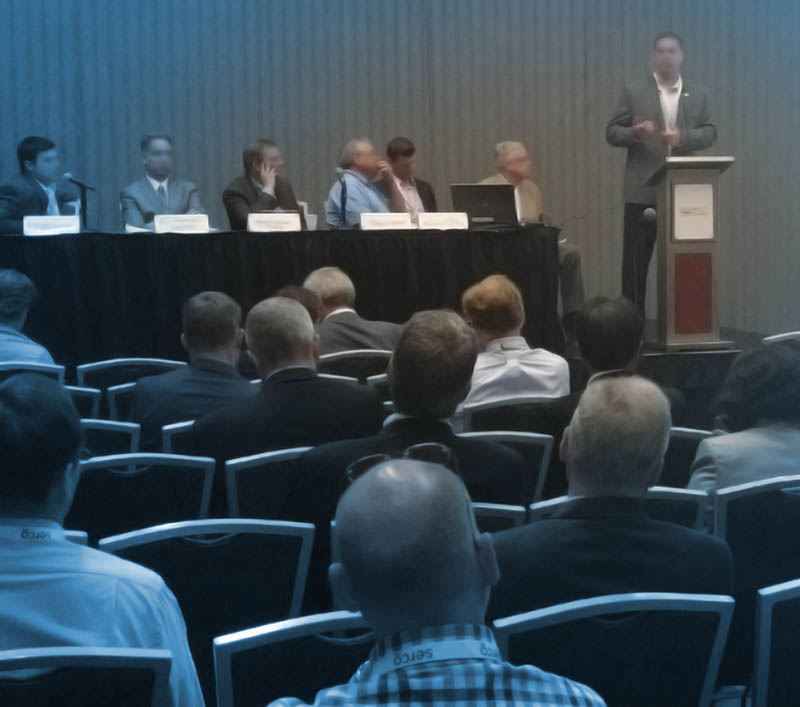 Efficiently manage presentation files
Confex PodiumTM brings order to the process of collecting and distributing presentation files onsite. Our staff work on-site to deliver the service in close coordination with your AV vendor and other contractors. Where a local area network (LAN or VLAN) can be established, Podium will automatically pump presentations from the speaker ready room out to the meeting rooms. Where a LAN is not practical, Podium still greatly simplifies file distribution.
Make it easy for your presenters
Confex PodiumTM maximizes the presenters' active speaking time by virtually eliminating the shuffling of laptops at the podium, and by making it extremely easy to launch the right presentation at the right time. If your goal is to collect and distribute the actual PowerPoint files used by the presenters, Podium will give you a completely indexed set of files within minutes after the last file is collected.